Welcome to my site.

Sue Herber
1615 109th Ave NE
Bellevue, WA 98004
425-454-2399
sue@sueherber.com

My email address has changed. Please use sue@sueherber.com.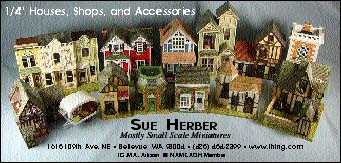 Pictures and descriptions of structure kits are listed under each title. Furnishings for each kit are available as finished, fully accessorized items. If individual prices are not shown, feel free to email me for the information at sue@sueherber.com. Please email or phone me with your order request. I accept checks and paypal only.
Spring Cruise Holland and Belgium March 23 - April 3, 2017
These are projects that have been developed and are awaiting future production. Until the pictures appear under current projects they are not available.
New lower prices for QC sale: on sale
Retired projects are no longer available. They are for reference only.
Thanks for looking. Sue.