Welcome to my site.

Sue Herber
1615 109th Ave NE
Bellevue, WA 98004
425-454-2399
sue@sueherber.com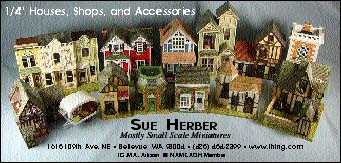 Original Samples and kits: With the exception of a few projects listed with a star (*), Most of the items in the current section are original samples and kits from previously retired projects. I am now selling these. I have always kept my original sample and one kit for spare parts when needed by my customers and students, but now am fully retiring these items.
Pictures and descriptions of structure kits are listed under each title. Limited furnishings for some kits are available. Please email or phone me with your order request. I accept checks and paypal only.
Burgundy and Provence French Cruise November 2019
These are projects that have been developed and are awaiting future production. Until the pictures appear under current projects they are not available.
Retired projects are no longer available. They are for reference only.
I decided in 2019 to start posting the miniatures I do mostly for myself going forward. Enjoy looking at my newer work.
Thanks for looking. Sue.