Welcome to my site.

Sue Herber
1615 109th Ave NE
Bellevue, WA 98004
425-454-2399
sue@sueherber.com

My email address has changed. Please use sue@sueherber.com.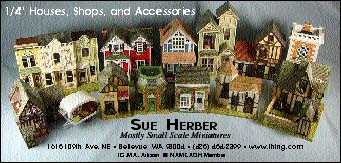 ---
RETIREMENT PLANS
I have made the decision after 31 years of doing shows and teaching classes, that I will retire from being a full time miniaturist after the NAME National Convention in Alexandria this July. As of now I will no longer be making any new furniture sets or structure kits other than the two projects and furnishings I will be doing at Alexandria. If you are not going to Alexandria, but would like to have one of these 2 new projects-Beatrix Potter's Village and the English Country Mouse Bedroom- please contact me by June 1 as I will be cutting the last kits of this project as well. Whatever kits and furnishings I have remaining for my other projects will be all that are available for previous projects. Over time I will be going through all of my furnished samples (over 100) and making them available for sale. These are my originals, many hand cut by myself and with the original furnishings I designed for each project.
I will continue to lead small travel groups to Europe starting with the Christmas Cruise on the Rhine this year. I will also continue to make souvenirs and have a small class on these trips.
I am not giving up being a miniaturist nor saying I will never do a show or have a class again, but it will be a rarity, and something I don't currently have plans to do. I have so enjoyed being a professional miniaturist, but the demands of nonstop design and execution of my work have worn me out for now. I look forward to seeing some of you at future shows on the other side of the table.
Keep enjoying your minis- I know I will, as well.
Sue Herber
---
Pictures and descriptions of structure kits are listed under each title. Furnishings for each kit are available as finished, fully accessorized items. If individual prices are not shown, feel free to email me for the information at sue@sueherber.com. Please email or phone me with your order request. I accept checks and paypal only.
Christmas along the Rhine November 30 - December 11, 2017
These are projects that have been developed and are awaiting future production. Until the pictures appear under current projects they are not available.
Special prices: on sale
Retired projects are no longer available. They are for reference only.
Thanks for looking. Sue.